Greatest Need: Child Sponsorship in the Philippines - $180 per year
San Vicente Elementary school children - Southern Leyte, Philippines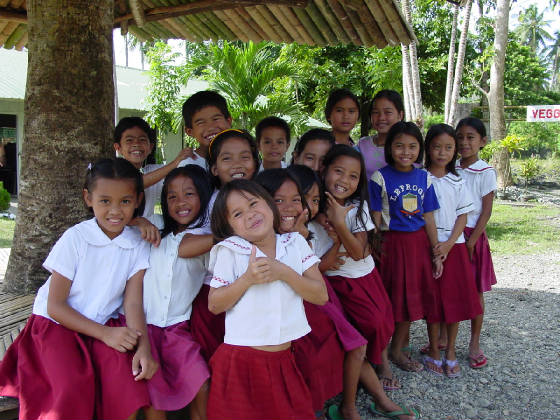 Housing Project - Malitbog, Southern Leyte, Philippines - July, 2015
Annual Rice/Noodle Program for the poor in My Tho, Vietnam
Rice Gift Program - Vietnam 2010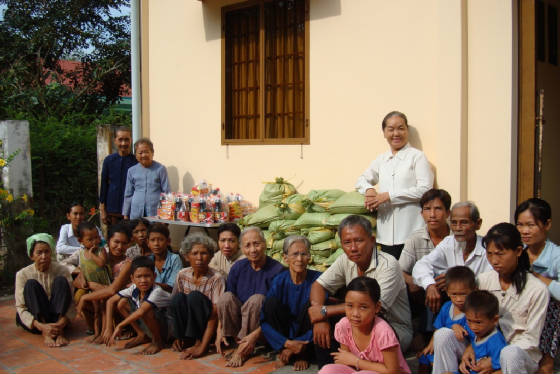 Mission Statement
Founded in 2000 by Mike & Gina Peck, Outreach Asia has strived to improve the impoverished lives of children and families living in the developing countries of Southeast Asia.

While this may seem a daunting task, by concentrating resources on the building of a solid infrastructure such as safe water supplies, upgrading educational resources, and addressing the medical needs and social pariah of leprosy, Outreach Asia has positively affected the lives of hundreds of people in the local communities they serve.
Outreach Asia prides itself as a streamlined, efficient US 501(c)(3) Non-Profit charity organization, which provides over 96% of all donations to directly benefit those in need. Through a dedicated network of 100% volunteers, we minimize our administrative costs to just the bare necessities needed to provide these much needed services to the under-privileged of Southeast Asia. This fiscal frugality allows Outreach Asia to stretch the generous dollars provided by grants and personal contributions and to use those funds where they are needed most…people who are poor and disadvantaged living in some of the world's most underdeveloped countries. Right now your generous donations are benefiting communities in, Vietnam and the Philippines.
Supporting individuals aflicted with leprosy in two areas: Ben Tre, Vietnam and Mindanao, Philippines
*** See "Education" page for College Sponsorship information
***See "GEMS" page for Child Sponsorship information
Flory walks with two new legs - 2004

Click here: Video of our Children Sponsorship Program(GEMS)- 4 minutes

"The Journey of a thousand miles begins with a single step."

Mother Theresa was once asked "How can we ever end poverty?"

She replied with one simple word…"Share".

In today's society the issues of poverty in the undeveloped Southeast Asia region may seem to be an insurmountable challenge with a goal that is unattainable.

The truth is that by reducing the problems to the basic factors of education and health on a grass-roots level, these problems can be easily corrected with a little help from you.

Our programs start a "Ripple Effect", by aiding just one person, one family, or one community we can enable them to a better chance in life.

By providing the basics such as clean water, and safe buildings to start the fundamental education needed to raise themselves and their communities from poverty.

As you'll see throughout this site, these goals are surmountable and attainable; we just need your help.

We all have the opportunity to make a difference and to help someone in need; we just have to make a commitment.

Please see our page "How Can You Help" located in the menu on the left side to find out how you can make a commitment to make a difference in someone one's life that desperately needs it.

Click here for latest Newsletter






Water For Life Project - Elementary School - Southern Leyte, Philippines

Family water well - Ben Tre, Vietnam

Housing & Water Project - Southern Leyte - 2008

New Classrooms and Desks in Laos

New Foot Bridge - GEMS Heart, Cavite Philippines - 2008

Sauiloro Village, East Timor - New Tractor & Wagon